#201. "The Joy of Scritching"
Debuted: 11/28/10
Vandal posted an XtraNormal-made video about the pitfalls to getting a novel published, so this avatar was a response to how easy it in fact is. Obviously riffing off the classic "The Joy of Sex", we're sure that this tome by ES and Sprotsie Baby shot to the top of the best sellers list. Whether it's the fiction or non-fiction list is another matter...
Characters: ES, Sprots
Reference thread:
viewtopic.php?f=1&t=31124&p=348033#p348033
#202. "Stormin' Through Norman"
Debuted: 12/2/10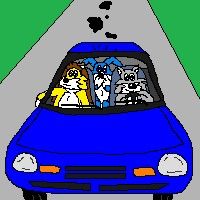 Ranked 16th in the 2010 ES Avatar Countdown
Sliver posted a link to a video of her and a couple of her Gridiron castmates doing a bit on the local news as their characters Barack Obama, Bill Clinton, and Nancy Pelosi. Kiki mentioned that this was what everyone missed at the Gridiron show that a few of us get together for every year, and Esto felt Left Outt by saying the secret invitations only go out to a couple named people. So Fanny chimed in that I'd probably let him ride in the back of the LBN, and lo and behold this avatar was born. While Kiki is not hanging on to the Jesus Strap, she does have her arm hanging out the window in very dignified fashion. This avatar is permanently memorialized on my icebox as Kiki had a magnet made for me with this avatar on it for Christmas.
Characters: ES, Kiki, Esto
Reference thread:
viewtopic.php?f=1&t=31198&p=348690#p348690
#203. "War Eagle!"
Debuted: 12/5/10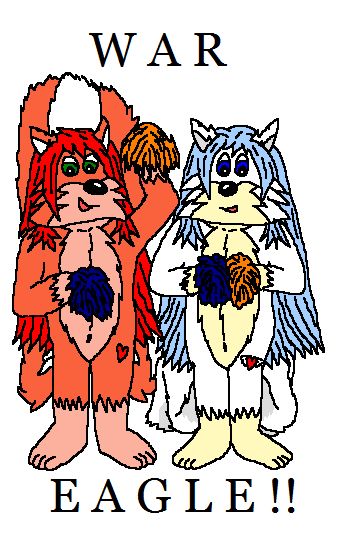 This avatar was listed from the back of a card I made for Kiki's birthday, with my rally squirrels MBRS and Angel rooting on Auburn against South Carolina in the SEC championship game. Auburn went on to win, marking a rare victory for the rally rodents. In kind of a surprising move, Weyoun took this as his own avatar (and his first ever avatar) the following summer when I reposted this avatar in an Auburn thread.
Characters: MBRS, Angel
Reference thread:
viewtopic.php?f=1&t=31257&p=349184#p349184
#204. "Winnie the Squirrel"
Debuted: 12/7/10
I received a surprise present from Rafferbee of rare, endangered Sumatran flying squirrel... not a real one, but a plush one from some online gaming community called Xeko. I drew up an avatar version of him, and since the Bored has been the inspiration for the names of all of my characters, I submitted this one for their recommendations. In the end, I took the first suggestion which came from Marley, Winston, derived from the scientific name for the Sumatran flying squirrel
hylopetes winstoni
. He became Winnie for short upon a suggestion by tgirl later in the thread, and the latest minor character in the ES universe.
Characters: Winnie
Reference thread:
viewtopic.php?f=1&t=31289
#205. "Squirrels on a Plane!"
Debuted: 12/8/10
Etaoin posted a story about an 89 year old lady who let her dog loose on a plane, causing the plane to be diverted midflight after the dog bit several passengers. I didn't even need any prompting from the Bored to create this avatar of Sprots' worst in-flight nightmare. Here, I let Kiki play the 89 year old lady, and ES play the cute and cuddly dog who just wanted some scritches.
Characters: ES, Sprots, Kiki
Reference thread:
viewtopic.php?f=1&t=31286
#206. "Rainbow Diablo"
Debuted: 12/10/10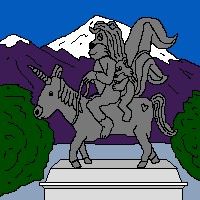 Fanny got to talking in chat about the statue in Colorado Springs of General William Palmer and his horse Diablo, one of the more recognizable landmarks in the city (outside of Pikes Peak). I had the inspiration to take my infamous Rainbow Donkey avatar and turn it into the Palmer statue. This was a very painstaking process, beginning with the original avatar and erasing all the old colors, darkening the lines back in, and turning the whole thing gray. After all that, I didn't waste much time on the background. This was my last avatar before the countdown, and it ran while I was listing the honorable mentions.
Characters: ES, Hooly, Rainbow Donkey
Reference thread: None
#207. "Codpiece Fanny"
Debuted: 1/1/11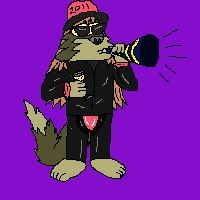 When Fanny capitalized on my use of the phrase "like she just don't care" in my synopsis of the avatar "Stormin' Through Norman" in the avatar countdown, she changed her avatar to one of Cameo lead singer Larry Blackmon strutting about in his pink codpiece. Playing off of Sprots' campaign around Crawlspace Fanny winning the countdown, I promised a Codpiece Fanny for New Years, and made sure to deliver.
Characters: Fanny
Reference thread:
viewtopic.php?f=1&t=31365&p=351344#p351344
(inspiration thread)
viewtopic.php?f=1&t=31650
(Found it)
#208. "The Squorrel Plunge"
Debuted: 1/3/11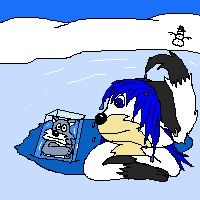 Avatar made for southnyack's birthday, playing off of her ritual of participating in an annual "polar plunge" event for charity. ES, like me, does not do well in freezing water.
Characters: ES, Southnyack
Reference thread:
viewtopic.php?f=1&t=31669&p=353622#p353622
#209. "Riddle Me This"
Debuted: 1/6/11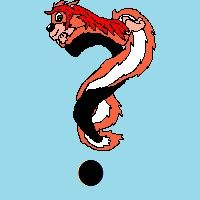 This avatar of MBRS seductively posing atop a question mark was drawn the previous October for reasons I did not and will not disclose. However, the mystery that accompanied the avatar's creation ceased to be one before I had a chance to use it. However, not being one who likes to totally waste my avatar talents, I dredged this one up for a rainy day where I wanted to have a new avatar but had no inspiration and/or time to make one. Fanny did present an interesting interpretation of what she though this avatar was about in the thread linked below.
Characters: MBRS
Reference thread:
viewtopic.php?f=1&t=31727&p=354249#p354249
#210. "Bathroom Reading"
Debuted: 1/7/11
I was lucky enough over the holidays to receive a copy of the book "Squirrel Seeks Chipmunk" by David Sedaris from someone on this Bored who share's Santa's initials. I finally got the time to read it during downtime at Bingo the previous night, and finished it off before I went to bed. I brought forward the thread that first mentioned this book's existence and provided my own critique of the book, which is actually a collection of short fables. I accompanied that report with this avatar of ES reading in his favorite spot. How many noticed the MBRS centerfold laying on the floor?
Characters: ES, MBRS
Reference thread:
viewtopic.php?f=1&t=31136&p=354459#p354459
#211. "WE WANT MATIAS!!!!"
Debuted: 1/11/11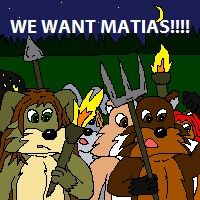 Ranked 13th in the 2011 ES Avatar Countdown
After a year's worth of classic avatars I made out of hijacking Sprots' Matias avatars, she thumbed her nose at me and the Bored by decreeing that she would not upload another Matias avatar until I promised not to draw her in any more avatars with ES. Of course, that wasn't about to happen, so the boycott began, and the Bored put on the pressure for her to back down more than I did. That inspired this avatar of an angry village mob of BB's demanding the return of Matias to avatardom. Despite the campaign, the boycott continues to this day.
Characters: Sliver, tmitsss, tgirl, Marley, melly
Reference thread:
viewtopic.php?f=1&t=31193&start=325
#212. "Amadeus Squirrel"
Debuted: 1/13/11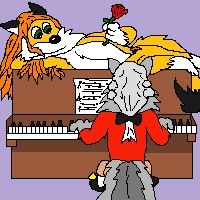 I got a Yamaha keyboard for Christmas and was spending many mornings since then learning to play some familiar melodies, as well as a number of old Nintendo themes I remembered and loved. Ody was always hanging around me when I played, and I snapped this picture of him looking at me as if he wanted a chance to play. In posting it to the Bored, I also drew this avatar of ES dressed up as Mozart playing a love song for Sprotsie Baby, as she lay upon the top of the piano. Only La Sprotsie Bella was a more romantic avatar of the two.
Characters: ES, Sprots
Reference thread:
viewtopic.php?f=1&t=31868
#213. "Say Cheese!"
Debuted: 1/19/11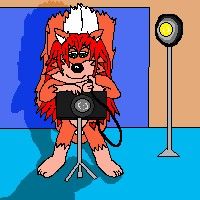 Avatar done for uly's birthday, featuring his crush MBRS posing with some of his photographic equipment. It's not a bad avatar until you notice it's glaring flaw, MBRS's transposed left hand.
Characters: MBRS
Reference thread:
viewtopic.php?f=1&t=31976
#214. "My Yellow Valentine"
Debuted: 1/20/11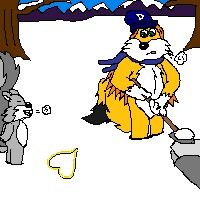 A snowstorm dumped almost 10 inches here overnight, the most snow my area's had in a while, so I took a picture of my measurement of the snow and posted it to the Bored. I later decided to tack on this avatar of ES wishing Sprots a special greeting that can only be done with a full bladder and virgin snow. ES may look cute now, but it's probably not a good idea to be bothering people carrying a shovel.
Characters: ES, Sprots
Reference thread:
viewtopic.php?f=1&t=32002&p=357012#p357012
#215. "The Terrible Kleenex"
Debuted: 1/23/11
Stillers fans on the Bored will have you believe that their iconic Terrible Towel has magical properties that bring bad luck upon those who dis it. This avatar was clearly meant to dis the Terrible Towel, as ES sneezes into yellow cloth prior to the Steelers AFC Championship matchup with the Jets. While the Steelers did win that round, it was Fanny's idea for me to recycle this avatar at Super Bowl time when Pittsburgh played the Packers, since the green pom pons MBRS had been using to rally the Jets were also fine for Packer colors. The Pack took the Lombardi Trophy, and this avatar proved that "curses" only work half of the time when you are dealt with a 50/50 proposition.
Characters: ES, MBRS
Reference thread:
viewtopic.php?f=1&t=32034&p=357588#p357588
#216. "Stocker Squirrel"
Debuted: 1/25/11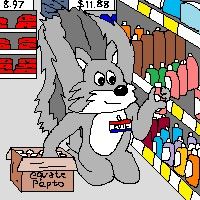 Ranked 10th in the 2011 ES Avatar Countdown
Fanny likes to buy her Equate Pepto Bismol in bulk, and is frequently frustrated by the lack of it on the shelf when she makes her pilgrimages to Mecca. So when she made a request for a full Pepto shelf, I assigned ES the task of delivering. ES seems to be enjoying his work keeping the counters at Mecca full, though exactly what that name badge is clipped to is a mystery you may not want to investigate.
Characters: ES
Reference thread:
viewtopic.php?f=1&t=32070&p=358054#p358054
#217. "The Snowcats"
Debuted: 2/1/11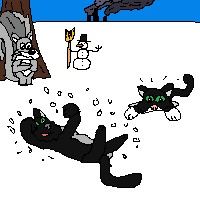 Two weeks after the 10 inch snowstorm, the predictions for the storm set to his on February 1st were for anywhere from 6 to TWENTY inches. This storm totally fooled the weatherfolks though, and all we wound up getting was a lot of sleet and a covering of snow over it. But before it hit, I did draw this avatar of my cats playing in the expected snow. This avatar got an early pre-emption from the next avatar... was put back up the following day only to get pre-empted yet again by the next avatar after it! It would also sadly make its debut the day before Spilly would relapse into his seizure fits again, and three days before he was put down.
Characters: ES, Spilly, Ody
Reference thread:
viewtopic.php?f=1&t=32229
#218. "Steers and Squirrels"
Debuted: 2/1/11
Fanny decided to have a little fun with the vandal MM Gunnery Sergeant Hartman, which resulted in a number of insanely funny responses from everyone's favorite drill sergeant. I decided to throw up this quick and short-lived avatar of ES making poor, sweet Angel drop and give him 20. MBRS was smart enough to serve the men who serve off base....
Characters: ES, Angel
Reference thread:
viewtopic.php?f=1&t=32216
#219. "Evil Quixote"
Debuted: 2/2/11
Ranked 15th in the 2011 ES Avatar Countdown
A thread by christie stating that the heat went out at her house took a bizarre turn when tmitsss posted a picture of a toppled windmill that succumbed to the bitter cold. When Sliver mentioned in that same thread that she got her pipes unthawed, tmitsss asked if she could fix that windmill next. After she dispatched Lizbit for the job, I drew up this avatar of why that might not be a great idea, especially if ES tagged along. Inspired by the famous scene from Don Quixote, we have ES and his trusty steed Lizbit charging at the windmill.
Characters: ES, Lizbit
Reference thread:
viewtopic.php?f=1&t=32252&p=359741#p359741
(Inspiration thread)
viewtopic.php?f=1&t=32264
#220. "Welcome To Colorado"
Debuted: 2/11/11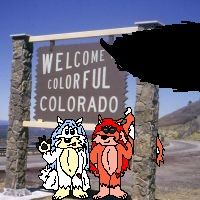 Snaxx was beta testing his new game that was the hit of late-Winter/early-Spring, "I've Been Everywhere", where he would post a photo he took from somewhere his many travels took him to and it was up to everyone to guess the city and state. I complimented Snaxx on his vacation photos and said they were much better than the ones ES took, making this avatar where I worked the girls in front of a "Welcome to Colorful Colorado" sign, then had ES's silhouetted finger obscuring part of the picture. I took many pictures like that when I got my first camera as a kid.
Characters: MBRS, Angel
Reference thread:
viewtopic.php?f=1&t=32453&p=361607#p361607
#221. "Bad Hair Hottie"
Debuted: 2/12/11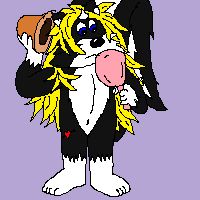 Ranked 20th in the 2011 ES Avatar Countdown
Christie ran into Hottie (they live in the same town) at the post office, and the former made mention of it on the Bored. Hottie lamented that she ran into christie in the middle of a terrible hair day for her, and upon reading this I immediately opened up Paint, despite the fact that I was on my laptop and in chat, and whipped this one up of Hottie not liking what she saw in the mirror. The hat was an actual prop Hottie was using to combat her bad hair troubles, and it made it easy to use the cover of Weird Al's album "Bad Hair Day" as my alternate inspiration for the design of this avatar.
Characters: Hottie
Reference thread:
viewtopic.php?f=1&t=32496
#222. "You Sunk My Dinghy!"
Debuted: 2/16/11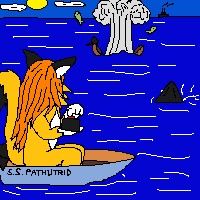 Wintergreen hates Mark Trail with a passion. So naturally, he was in the mood for celebration when it appeared the poorly drawn park ranger finally found a bad guy he couldn't thwart and was shot in the head while out in a boat. Of course, we all know Mark Trail is immortal and can't be killed. Es on the other hand, well, in this avatar I drew for the occasion we'll have to see if he was able to survive Sprots' nuclear weaponry. The name of Sprots' boat, Pathutrid, comes from a word I made up to taunt Sprots' lame efforts to cheat in the LSWE.
Characters: Sprots
Reference thread:
viewtopic.php?f=1&t=32571&p=362500#p362500
#223. "The Lost Bahonka"
Debuted: 2/20/11
TLITF posted a long thread detailing a number of items he lost in a short span, so I came up with this avatar to back up my reply as to whether there was anything TLITF hadn't lost yet. ES seems to have misplaced his behind.
Characters: ES, MBRS
Reference thread:
viewtopic.php?f=1&t=32629&p=363145#p363145
#224. "Waiting For Sprots"
Debuted: 2/23/11
I drew this avatar up the day before I was to depart for the annual Gridiron meetup in Norman, OK. Sprots was coming for the first time this year, and ES was obviously quite excited about her pending arrival, as you can tell from the hopeful look on his face. Lizbit was undoubtedly going to plow over ES to get the first scritches, though.
Characters: ES, LIzbit
Reference thread: None
#225. "Author! Author!"
Debuted: 2/25/11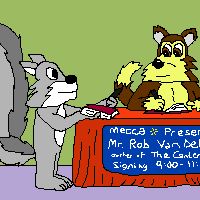 Vandal gave the Bored the good news that one of his novels he had written, "The Centerpoint", had finally received a commitment to be published sometime in either 2012 or 2013. ES, a great admirer of Mr. Van Delle's work, was of course one of the first in line to get an autographed copy. This was one of three avatars I drew on my laptop while staying in Norman.
Characters: ES, Vandal
Reference thread:
viewtopic.php?f=1&t=32717&p=364155#p364155
Avatars 226-250 >>>
<<< Avatars 176-200