#226. "When It Rains, It Pours"
Debuted: 2/26/11
My trip to Norman coincided with one of the worst stretches of luck I can ever remember having. I had to drive there in storms, nearly getting killed in Tulsa when I hydroplaned and somehow avoided two cars that had wrecked just in front of me. I began developing a cold while stuck in Tulsa traffic, which bugged me the entire weekend. I cracked my head open on the shelf above my hotel room closet, bloodying up a fine hotel towel. And the coup de grace came on this day, when I got in my first wreck ever trying to drive Beebs and Sprots from the bowling alley to the local Whataburger, making a left turn Sliver had warned us all about already, but I was forced to make after making an earlier wrong turn. This avatar pretty much sums up how it was for me, though I did still have a blast when I wasn't being shat upon by the fates.
Characters: ES
Reference thread:
viewtopic.php?f=1&t=32736
#227. "Ick!"
Debuted: 2/27/11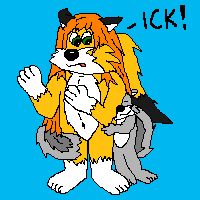 Before I left for home on this morning, I gave Kiki and Beebs a drawing demonstration on my laptop in the lobby of Kiki's hotel. After drawing a plain old ES pic, I drew this next for their amazement, and uploaded it as soon as I was done. Luckily for me, Sprots had already left for Colorado.
Characters: ES, Sprots
Reference thread:
viewtopic.php?f=1&t=32736&p=364317#p364317
#228. "Box Cutters"
Debuted: 3/2/11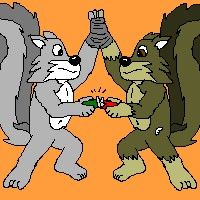 A thread about box cutters missed by TSA screeners at an airport led to this avatar. I love my box cutter, and so do ES and Winnie, who are having a friendly of box cutter duel. The interesting thing about this avatar is that I first drew ES in outline, then reversed that image to use for Winnie. You will notice that other than the normal marking differences on the two, they are actually mirror images of each other. This was the same trick I used to make the Gemini picture in my zodiac series, and I absolutely love the way both of them turned out.
Characters: ES, Winnie
Reference thread:
viewtopic.php?f=1&t=32802&p=365033#p365033
#229. "Grandmaster Dumbass, Featuring L'il Ballz and Dip Diddy"
Debuted: 3/8/11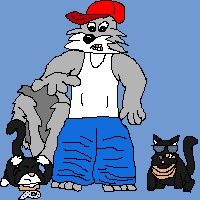 I posed the question during an answer post in one of my LSWE games about why hip hop acts seem to be unable to perform a song by themselves, always seemingly needed several other backup rappers and singers to share artist credit for the song. When I did so, I made up the ficticious grouping of Grandmaster Dumbass featuring L'il Ballz and Dip Diddy. It cracked Fanny up, and she provided the first parts of the visual that led to this avatar of ES and my cats making up the hip hop trio. We're thinking this act probably didn't get too far before it was booed off the stage.
Characters: ES, Ody, Biskit
Reference thread:
viewtopic.php?f=1&t=32887&p=366132#p366132
#230. "The Saucinator"
Debuted: 3/11/11
BobJuch started a firestorm of controversy on the Bored when he took it upon himself to delete a post by Saucy that contained an accidental spoiler for Snaxx's current game before she had a chance to go back and edit it herself. This irked Saucy to no end, caused BobJ to finally lose his moderator status, and inspired this avatar of Saucy taking action against the overbearing former mod.
Characters: Saucy, BobJuch
Reference thread:
viewtopic.php?f=1&t=32979&p=366953#p366953
#231. "Squirrelzilla"
Debuted: 3/15/11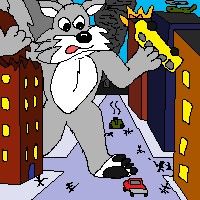 The aftermath of the massive earthquake in Japan left one of their nuclear power plants on the verge of a meltdown, and there was a lot of concern at the catastophe that could cause if all of that radiation was released into the environment. Using the common plot of Japanese horror movies, I created this avatar of a radiation altered ES to make some light of the situation.
Characters: ES
Reference thread:
viewtopic.php?f=1&t=33015&p=367649#p367649
#232. "Blaze and Sulphur"
Debuted: 3/17/11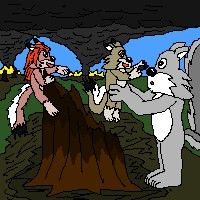 Wildfires were rampant in Oklahoma during the month of March, and Sliver brought to my attention in chat a story about a pair of squirrel pups near Sulphur, OK that were rescued from a charred tree stump in the aftermath of a fire. They inspired me to create the little brother and sister combo in this avatar who were developed further in a full sized picture and given the names of Blaze and Sulphur.
Characters: ES, Blaze, Sulphur
Reference thread:
viewtopic.php?f=1&t=32986&p=368139#p368139
#233. "Copier Porn"
Debuted: 3/21/11
A YouTube video posted by jeemie about the security risks associated with office copier machines led to a delayed inspiration of this avatar. We're not sure who would hack into the copier's memory to extract the images MBRS is creating, but you can bet it will end up on some sleazy part of the internet that Angel never visits.
Characters: MBRS, Angel
Reference thread:
viewtopic.php?f=1&t=33145&p=368769#p368769
#234. "$37,601"
Debuted: 3/23/11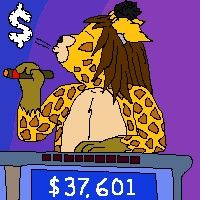 Original avatar drawn after the first of Rafferbee's three Jeopardy wins.
Characters: Rafferbee
Reference thread:
viewtopic.php?f=1&t=33172
#235. "$70,002"
Debuted: 3/24/11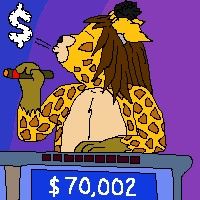 Updated avatar drawn after Raferbee's second Jeopardy win, showing her two day total.
Characters: Raferbee
Reference thread:
viewtopic.php?f=1&t=33172
#236. "Rafferbee Is Smokin'!"
Debuted: 3/25/11
This was the final version of this avatar showing the total winnings ($103,203) from Rafferbee's three day romp on Jeopardy. The original concept of the avatar was based on zachhoran's infamous fascination with awarding female winners on J! "cyberial cigars". The total on the scoreboard was updated the morning after each of her wins, making this a series of three similar avatars.
Characters: Rafferbee
Reference thread:
viewtopic.php?f=1&t=33172
#237. "Kill All the Lawyers!"
Debuted: 3/28/11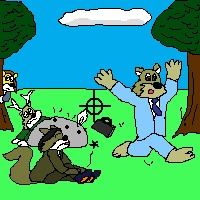 In what would be a prequel to the infamous thread involving kbhirsch's questionable antics with the phone game and the lawsuit he was pursuing out of it, kbh first asked if anyone had a copy of the old primetime show rules. The thread devolved into the a discussion of lawyers, and how the Bored had a lot of lawyers. Jaybee made a great reply off of one of my posts, saying he has visions of plinking off lawyers with a BB gun, and this avatar of an assortment of Bored lawyers in a shooting gallery popped into mind. The crosshairs not only went well with the theme of the avatar, but was a bit of a thumbing of the nose to those who objected to a controversial crosshairs poster that they believed resulted in the attempted assassination of Congresswoman Giffords in Arizona a couple months prior.
Characters: tmitsss, clem, Bob78164, wintergreen
Reference thread:
viewtopic.php?f=1&t=33253&p=370061#p370061
#238. "The Most Wonderful Day of the Year!"
Debuted: 3/31/11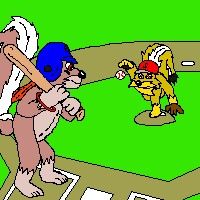 This year's Opening Day avatar for the beginning of the MLB season featured the first appearance by the orphaned youngsters Blaze and Sulphur in their own avatar. Fanny lamented to the right-handed overload in this avatar, but drawing it the opposite way would have contorted my mind.
Characters: Blaze, Sulphur
Reference thread:
viewtopic.php?f=1&t=33302
#239. "Look What I Found!"
Debuted: 4/1/11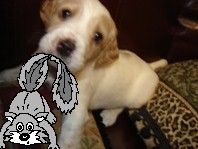 Ranked 3rd in the 2011 ES Avatar Countdown
Sprots got a new puppy named Annie (with Sliver's blessing and encouragement) and posted an avatar of her that was just begging to have somethign added to it.... like poor ES dangling from out of her mouth. Annie knows how to capture new friends, though ES doesn't appear to be quite thrilled with the way he was brought back home to be played with.
Characters: ES, NewAnnie (real-life)
Reference thread:
viewtopic.php?f=1&t=33315&p=370755#p370755
#240. "Runway Model"
Debuted: 4/5/11
BobJuch's reply in a thread where Toddlers & Tiaras came up that he was a "runway mode at age two and he turned out OK" was so absurd that I couldn't help but take it to make this avatar depicting what I figured Bob must have actually meant. Yes, that's Sprotsie Baby painted on the plane, a la those sexy ladies painted on the sides of planes circa WWII.
Characters: ES, Sprots, BobJuch
Reference thread:
viewtopic.php?f=1&t=33375&p=371167#p371167
#241. "Internal Squirrel Error"
Debuted: 4/6/11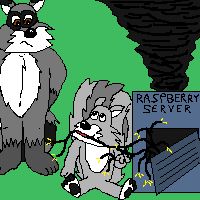 The Bored suffered from some evening downtime on the day with avatar was drawn, and features ES in one of his old schtiks, chewing on wires. These happen to belong to the Bored server as a furious tubadave looks on.
Characters: ES, tubadave
Reference thread:
viewtopic.php?f=1&t=33415
#242. "On Furlough"
Debuted: 4/8/11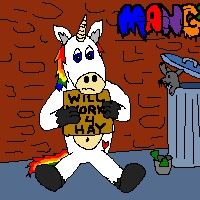 The threat of a federal government shutdown left some of the Bored denizens who did that kind of work a bit nervous as to whether they would be among those furloughed. While that scare came to pass without a shutdown, I did take the steps to furlough some of my unnecessary characters. And the first one I thought of to star in the furlough avatar was poor Rainbow Donkey, seen here on skid row begging for money and hay. This avatar just pleases me in so many ways, I left it up as long as I could despite some other inspirations popping up.
Characters: Rainbow Donkey
Reference thread:
viewtopic.php?f=1&t=33425&p=371826#p371826
#243. "Papersquirrel"
Debuted: 4/12/11
April 11, 1954 was dubbed by somebody to be the boringest day of the 20th century. tmitsss posted a comic with that as the headline, and it brought up a discussion of twice daily newspapers and delivery, and that's where ES on his bike delivering the news was born. The perspective on this one is entirely FUBARed, but its made up for by the happy look on ES's face, and the poor unidentified dude in the background who got whacked by ES's rolled up missile.
Characters: ES
Reference thread:
viewtopic.php?f=1&t=31139&p=372344#p372344
#244. "In Praise of Catfish"
Debuted: 4/15/11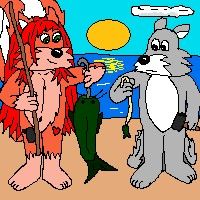 Birthday avatar for Catfish showing ES and MBRS proudly displaying their catch. ES's hammer is a shoutout to the original portrait I drew for Catfish, where he is attempting to fish by dangling a worm over the water and pounding any fish that surfaces for it. Fanny thought it looked like ES was hammering worms, and the phrase "hammering worms" is what I still use to describe the phenomena of a misinterpretation of what is happening in an ES picture.
Characters: ES, MBRS
Reference thread:
viewtopic.php?f=1&t=33574
#245. "Rally Squirrels Square Off"
Debuted: 4/16/11
In perhaps my most courageous take on the Nuggets Rally Squirrels theme, with the Nuggets playing Sliver's Thunder in the first round this year, I decided to play the center and have MBRS root for OKC. While ES has his usual Nuggets rooting attire and is stepping on a tarantula (signifying Thunder star Kevin Durant's nickname The Durantula), MBRS is in ES's face with her Thunder jersey and pom pons. As it turned out, MBRS won this round, though she failed to resurface for either of the Thunder's next two rounds. Perhaps a disgruntled Nuggets Fan taught her a lesson.
Characters: ES, MBRS
Reference thread:
viewtopic.php?f=1&t=33557
#246. "Two To Tango"
Debuted: 4/18/11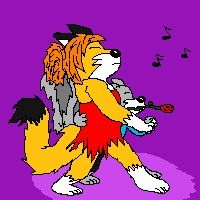 The picture for Snaxx's I've Been Everywhere game was a sign pointing to where the film "Dances With Wolves" was shot. That inspired me to make this avatar directing everyone to where they could finding dancing with squirrels. Here, ES and Sprotsie Baby do a mighty fine tango, and ES is as romantic and charming as ever with the rose in his mouth as he leads his partner across the dancefloor.
Characters: ES, Sprots
Reference thread:
viewtopic.php?f=1&t=33599&p=373182#p373182
#247. "Here Comes the Twister"
Debuted: 4/24/11
In the middle of a Spring full of wicked weather, a powerful tornado ripped through the northern part of the St. Louis area on the evening of Good Friday, doing severe damage to the airport and continuing on across the river into my city and barreling through a neighborhood only about a mile from the bowling alley I was at at the time. This belated avatar drawn on Easter morning gave an ES spin on the frightening event, with ES's tree being uprooted by a tornado while animals and objects swirl around him. MBRS plays the wicked witch riding by on her broomstick. Those who asked me about this avatar had a horrible time attempting to make out just what it was supposed to be, as the tornado is not obvious, especially since it blends in with the already dark background.
Characters: ES, MBRS
Reference thread:
viewtopic.php?f=1&t=33705
#248. "Bring Enough For Everybody"
Debuted: 4/28/11
Vettech appeared on WWTBAM in April and took home a cool 250K. One of the things Peacock noticed was she appeared to be chewing gum at the start of the run, which vettech confirmed and said it was taken from her during a commercial break. That led me to come up with this avatar that celebrated her appearance, while also poking fun at the gum incident. Since I've never seen the show with its non-Hot Seat set, I had to look up the design to draw this avatar.
Characters: Vettech, Meredith
Reference thread:
viewtopic.php?f=1&t=33750&p=375252#p375252
#249. "Pomp and Scritches"
Debuted: 4/30/11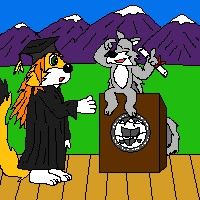 Sprots graduated with a second degree, and of course her good friend ES had to attend. In this celebratory avatar, ES is seen on the podium asking for a scritch in exchange for her diploma. No word on just how desperate Sprots was to obtain it.
Characters: ES, Sprots
Reference thread:
viewtopic.php?f=1&t=33844&p=376041#p376041
#250. "Beat the Bears!"
Debuted: 5/1/11
This avatar was a Blaze and Sulphur version of the rally squirrels done for Sliver's Thunder, who were playing the Memphis Grizzlies in the second round. While the Thunder did prevail in that series, they went on to lose to the Mavericks in the Western Conference finals. With the Nuggets out of the playoffs, and Sliver's interest in the Thunder nowhere near the fanatical range of Fanny's love for the Nuggets, this wound up being the only other rally squirrels avatar I did for the 2011 NBA playoffs.
Characters: Blaze, Sulphur
Reference thread: None
Avatars 251-275 >>>
<<< Avatars 201-225