#326. "NURSE!!!"
Debuted: 11/30/11
Ranked 7th in the 2011 ES Avatar Countdown
Snaxx reported of a flying squirrel who wound up in the ER at a New Jersey hospital and was continually leaping around after finding itself trapped in the room. The idea for an avatar came to me instantly, and I used the half hour morning ISE downtime to draw up this nifty perspective of the poor patient Sprots finding out that death does come from above. This got one of the best reactions of any of my avatars all year. My only nit with it is the way Sprots' hair right over her eyes tends to change the expression from one of shock and horror to looking like she's just upset and frustrated.
Characters: ES, Sprots
Reference thread:
viewtopic.php?f=1&t=37395
#327. "The Mohawk
Debuted: 12/4/11
Peacock was wanting suggestions for a new hairstyle after deciding that she's had her current look for too long. Blaze had a rather rockin' suggestion that harkened back to the punk era. Sully is not quite sure what to think of his sister's new do. Pea flat out rejected it.
Characters: Blaze, Sulphur
Reference thread:
viewtopic.php?f=1&t=37482&p=410041#p410041
#328. "Hottie in Photoshop"
Debuted: 12/6/11
Posted for Hottie's birthday, this avatar was drawn (on a much larger scale) in Paint, as are all of my other avatars. While I had experimented with accenting pics in Photoshop before, this was the first time I had used it on what would become an avatar. Even shrunk down from its full size, this picture still looks amazing. Just as with Evil's Angels, Hottie once again is front and center at a new frontier in ES's artistic journey.
Characters: Hottie
Reference thread:
viewtopic.php?f=1&t=37520
#329. "The Sore Loser Award"
Debuted: 12/7/11
Christie posted that her son had won an the "Good Sport" award for his high school football team, which inspired this drab little avatar I drew after wondering if it would be a paradox to issue an award for the opposite end of the spectrum, the biggest sore loser.
Characters: ES
Reference thread:
viewtopic.php?f=1&t=37542&p=410520#p410520
#330. "Heart Shaped Bed"
Debuted: 12/8/11
Beebs posted wanting suggestions for a new bed that wouldn't give her back problems like her current old bed was doing. Since many of the suggestions were humorous, I figured I may as well join in, and struggled through this difficult to pull off avatar of my ideal bed for Beebs. I drew and erased and redrew so many times, and it still didn't come out exactly as I'd hoped, but good enough to have made it worth the effort. The bed does look pretty comfy....
Characters: Beebs
Reference thread:
viewtopic.php?f=1&t=37563&p=410769#p410769
#331. "Sk8er Squirrel"
Debuted: 1/1/12
My first avatar of the new year was generated from a chat me and Sprots had a couple nights before, where skateboarders came up and I mentioned that it would be funny to have Casey chasing a skateboarding ES. Sprots looked through her pics to see if she had one that would work for this idea, and finally found a zoomed out version of this avatar. She eventually zoomed in on Casey, and I was able to work ES into it very nicely. This was the first avatar I saved in PNG format as opposed to JPG, which makes for a less compressed picture.
Characters: ES, Casey (real-life)
Reference thread:
viewtopic.php?f=1&t=37587&p=413625#p413625
#332. "Fine Art For Sale"
Debuted: 1/2/12
This was the day I debuted my online ES store at CafePress, and at the very last second before I posted it, I had the notion to do this avatar to accompany it. ES seems quite confident that his Velvet Squirrelvis and Squirrels Playing Poker will attract an audience, while MBRS gladly handles the cash register, awaiting the sales to pour in. Time will tell just how successful ES becomes as a professional squirrel artist...
Characters: ES, MBRS
Reference thread:
viewtopic.php?f=1&t=37879
#333. "La Chainsaw Bella"
Debuted: 1/5/12
A Colorado woman damaged a 30 million dollar painting in a Denver museum, and it was almost too perfect of a set-up. I had to draw Sprots preparing to take a whack with the chainsaw at my most valuable avatar, and her least favorite drawing of all time, "La Sprotsie Bella". It became something of a running joke that it appeared Sprots was wielding a cactus instead of a chainsaw... if cacti were gray and orange I guess.
Characters: ES, Sprots
Reference thread:
viewtopic.php?f=1&t=37915&p=414106#p414106
#334. "Rainbow Bronco"
Debuted: 1/7/12
Ranked 20th in the 2012 ES Avatar Countdown
The Steelers and Broncos met up in the first round of the NFL playoffs, and after some spirited back and forth between Sprots and the Stiller fans Pea and jeemie, I decided to back up Sprots with a rally donkey.... namely Rainbow Donkey posing as the white bronco in the retro team logo. Done with thicker borders and maybe my only avatar ever with a solid black background, this is a colorful masterpiece.... so good that it actually got me to root for a team I don't really care for just so it would stay up longer. The Broncos won that playoff game 29-23 on a thrilling OT touchdown pass, and when Sprots asked to use Rainbow Bronco, I let her have it to keep him up for the remainder of their run through the playoffs so ES could conduct his usual avatar business.
Characters: Rainbow Donkey
Reference thread:
viewtopic.php?f=1&t=37710&p=414425#p414425
#335. "Morngin Coffee"
Debuted: 1/10/12
tmitsss placed one of the first orders in my ES shop, and happily posted when his brand new ES mug arrived. Upon opinions as to how the coffee in such a mug would taste, BobJuch offered up that it would have an apple taste, and that inspired this avatar of an apple being thrown from a mystery source plopping right in suitdude's cup and splattering him with hot coffee. Of course, the real tragedy here is that the North Pole is melting...
Characters: tmitsss
Reference thread:
viewtopic.php?f=1&t=37962&p=414768#p414768
#336. "TILT!"
Debuted: 1/14/12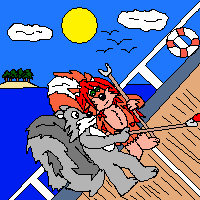 When the story of the Costa cruise ship ran aground in the Mediterrainian and began tilting over extremely to one side was posted, ES got on board (well, not literally!) and drew up this avatar of him and MBRS attempting to play shuffleboard while the deck is inclined at a 45 degree angle. This was extremely difficult to draw since I could only rotate the canvas in increments of 90 degrees, which explains some of the oddities in ES and MBRS's appearances. But still a pretty neat avatar, if not a physically impossible environment in which to play shuffleboard...
Characters: ES, MBRS
Reference thread:
viewtopic.php?f=1&t=38057&p=415446#p415446
#337. "Crowboarding"
Debuted: 1/19/12
Uly posted a video of a crow videotaped "snowboarding" on the roof of a Russian house that was making the media rounds. Since it was the early morning hours of his birthday, I used it as the inspiration for his birthday avatar by having him snowboard on a roof right over the poor crow. While I don't draw uly much, his character was essentially MBRS with short hair, so I decided to use the occasion to revamp his colors from those of a red squirrel to those of his beloved USC, which I think came out quite striking. Fanny, ever the cranky neighbor, was the logical choice to play the upset lady yelling out her window at the young punk. And what were the odds of having back to back avatars that involved a tilted surface?
Characters: Fanny, Uly
Reference thread:
viewtopic.php?f=1&t=38144
viewtopic.php?f=1&t=38143
(Crowboarding video)
#338. "Eyeball Soup"
Debuted: 1/23/12
Cindy made the observation that when she gets a new chew toy for one of her dogs, the pups almost always go for the eyes and chew them out first. The resulting disturbing talk of pets and eating eyes conjured up this avatar of Lizbit serving as guide dog for a now eyeball-less ES. The funky perspective in this pic kinda ruins it a bit, I think, but both expressions are right on as usual...
Characters: ES, Lizbit
Reference thread:
viewtopic.php?f=1&t=38194&p=416622#p416622
#339. "Horrible Bosses"
Debuted: 1/25/12
One of my newer bosses at work, the ever lovable Antwon, had become something of a mini-legend in chat after all the griping I have done about what a prick he is. After BiT posted a cryptic comment about having to hold back his anger over something at work, I asked if he worked for an Antwon as well as drew this avatar of the boss from hell berating the formerly cheerful and efficient ES, who takes out his frustrations by squeezing the life out of a Renuzit cone. Antwon was meant to be a doberman, but he looks more like a bear with bushy eyebrows. Either way, he's still 100% asshole.
Characters: ES, Antwon
Reference thread:
viewtopic.php?f=1&t=38235&p=417049#p417049
#340. "Meet Skanki"
Debuted: 1/29/12
A series of events in chat somewhat laid out in
this blog post
led to the creation of a new character, Skanki Skankova, the Russian ice skater by day, full blown skank by night. The avatar is a shrunkened version of the picture I made for that blog post. After whiffing on Antwon the doberman, I think I did a much better job here with Skanki as a Russian wolfhound.
Characters: Skanki
Reference thread:
viewtopic.php?f=1&t=38288
#341. "Six More Weeks of Summer"
Debuted: 2/2/12
For my Groundhog Day post, I referenced the mild winter being experienced by most of the nation and wondered what the significance of the groundhog seeing his shadow was if it already seemed like Spring anyway. ES comes up from his hole, not to see his shadow, but to observe the lounging MBRS, soaking up the warm early February rays. This avatar didn't survive the day, and no big loss because it just doesn't quite look right...
Characters: ES, MBRS
Reference thread:
viewtopic.php?f=1&t=38358&p=418178#p418178
#342. "Prizon Bitches"
Debuted: 2/2/12
Ranked 9th in the 2012 ES Avatar Countdown
When Bob Juch posted a cryptic story about making a drive up to Norman, OK, and then continuing to press the issue that he wasn't making it up and that there were "sordid details" behind the reason for his visit... Lizbit came to the rescue to provide a grand story of interplanetary possums and a visit to the new animal jail. I seized this masterpiece of a story, and found the perfect opening to work the newly minted Skanki into an organic avatar. Here Lizbit encounters the harsh reality of prizon (sic) life, which includes skanky cellmates looking for a little fresh meat. Even the wild child Lizbit doesn't like the looks of what Skanki has in mind for the evening. Luckily Bob came with the bail money just in the nick of time...
Characters: Lizbit, Skanki
Reference thread:
viewtopic.php?f=1&t=38338&p=418345#p418345
#343. "Another Notch On My Ear"
Debuted: 2/5/12
Someone asked why BiT's daughter's pig had all the notches cut in its ears. Rather than wait for the official explanation, I drew up an avatar of MBRS showing off the latest fad in emo animal fashion. Angel clearly wants no part of running with the in-crowd on this one...
Characters: MBRS, Angel
Reference thread:
viewtopic.php?f=1&t=38407&p=418706#p418706
#344. "Loving Her Was Queasier"
Debuted: 2/8/12
DevilKitty doesn't do very well in my LS games, but she is a loyal player and always tries to provide something, even if it is just for humor points. Well, she came up empty on the February 7th game, and mentioned that she should get a new avatar of a skunk, because that's what she was in this game... skunked. She even Kroxed "Dead Skunk in the Middle of the Road". That was just begging for me to introduce an avatar of her along with one of her, ahem, favorite people in the whole wide world who just happened to be a skunk in ES's world. Everything about this avatar just makes me smile, from the body language to the expressions of both DK and Hooly. Be careful what you wish for, because you just might get it....
Characters: Hooly, DK
Reference thread:
viewtopic.php?f=1&t=38442&p=419135#p419135
#345. "Possum Winter"
Debuted: 2/14/12
Vandal started a semi-regular thread asking what other members of the Bored were reading, and of course included his own books. One of them was a book called "Possum Summer" which has an illustration of a rather pissed off looking girl on the cover holding a cute little possum on her shoulder. I turned that on its head to inspire this avatar of Buster being buried in the snow while the rat tucked away in the safety of the trash can mocks him.
Characters: Buster
Reference thread:
viewtopic.php?f=1&t=38540&p=420064#p420064
#346. "Lap Bunny"
Debuted: 2/20/12
Saucy posted that she had a new hobby, as a volunteer at the SPCA. She related a story of a cute little bunny who climbed its way up into her lap and buried itself under her hand. I drew this avatar with MBRS as a different kind of bunny, cutely sitting in the lap of a perplexed Saucy. Saucy liked the avatar enough to steal it for herself, so this one lasted only a day on my account.
Characters: MBRS, Saucy
Reference thread:
viewtopic.php?f=1&t=38616&p=420944#p420944
#347. "No Autographs, Please"
Debuted: 2/21/12
Geoffil was asking how to obtain an autographed copy of Dizzie Miss Lizzie from vandal. Since vandal's autograph was in such high demand, I decided to show just how well in demand a scribble from ES was. Here, he sits fuming as nobody takes him up on his offers of an autographed T-shirt while MBRS naps. Got to love any avatar with a tumbleweed and desert skull!
Characters: ES, MBRS
Reference thread:
viewtopic.php?f=1&t=38628&p=421125#p421125
#348. "Sausage #2"
Debuted: 2/27/12
Starfish wondered in the Oscars thread if he was the only one who saw a nipple poke out from Jennifer Lopez's dress at the ceremony. Uly asked if he missed a wardrobe malfunction, and after mini added a nip slip from Tawny Kitaen, I drew up this wardrobe malfunction of a different type. Here, ES is embarrassed as he loses his crotch booster out of his shorts in front of a hysterically laughing MBRS. There was much confusion and debate as to what actually was dropping from ES's drawers, and I paid tribute to both explanations in the title of this avatar....
Characters: ES, MBRS
Reference thread:
viewtopic.php?f=1&t=38705&p=421740#p421740
#349. "The Bib"
Debuted: 2/29/12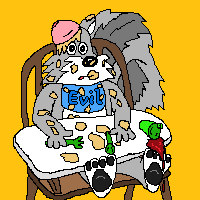 Kiki, as she is wont to do at times, posted some more pics of the grandkids. One, of Kennedy holding her little sister Harper, caught the attention of those of us in chat at the time because of Harper's monogrammed bib. Those Harrises just love their monogrammed merchandise. Anyway, it inspired me to do up an ultra cute avatar of a messy ES in a high chair with his very own mongrammed bib. If you don't believe this is the cutest picture ever of ES, please note what Sprots said towards the end of that thread. When even she says ES looks adorable, it's a damn cute avatar...
Characters: ES
Reference thread:
viewtopic.php?f=1&t=38740
#350. "Let There Be Sunchine"
Debuted: 3/4/12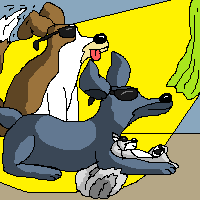 Ranked 19th in the 2012 ES Avatar Countdown
Sliver mentioned in chat the previous evening that BeBe was an appreciator of the sun, and enjoyed lying in the light and warmth. She made a typo though, calling it "sunchine", which I (the evil bastard) just had to latch on to. But it got this wonderful avatar of ES and his favorite canine girls hanging out by the window soaking up the rays, each with their own pair of cool shades. The shading of the fur on each character makes the sunlight effect more realistic...
Characters: ES, Lizbit, BeBe
Reference thread:
viewtopic.php?f=1&t=38812
Avatars 351-375 >>>
<<< Avatars 301-325