#501. "Squirrel Nuggets"
Debuted: 7/18/13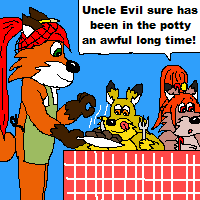 Ranked 20th in the 2013 ES Avatar Countdown
Melly managed to snag a part as a school lunchlady in a promo for the upcoming season of A&E's hit show "Duck Dynasty", but when it was revealed that she would be serving up a fresh tray of squirrel nuggets.... well, I was obviously appalled and drew this avatar (which melly later used as her own). The commercial had not popped up on YouTube yet, but it did shortly thereafter and can be seen
here
.
Characters: Melly, Blaze, Sulphur
Reference thread:
viewtopic.php?f=1&t=44819&p=464442#p464442
#502. "Something's Rotten In Washington"
Debuted: 7/23/13
The corpse flower in bloom in Washington, DC, and created enough of a stink for there to be a story on it, and Confessor linked it to the Bored. Always looking for a good excuse to use my skunk girls, I drew Hooly and Hottie walking along The Mall while the critters behind them gagged from the trailing skunk stench. Unnoticed (at least on the Bored) was my inclusion of a shoutout to another famous avatar of mine, featuring Angel and Rainbow Donkey leaping the Washington Monument, which can be seen in the background.
Characters: Hooly, Hottie, TMITSSS, Angel, Rainbow Donkey
Reference thread:
viewtopic.php?f=1&t=44864&p=464790#p464790
#503. "Dead Possum Delivery"
Debuted: 7/29/13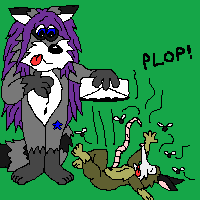 Etaoin had titled a thread in which he asked a trivia question related to an inventor from history he heard on a radio show "Dead Guy In An Envelope". A creepy thread title, which called for a creepy avatar of poor Holly opening up a piece of mail to find a deceased Buster spilling out in front of her. Never fear, Buster is a master of the temporary death.
Characters: Buster, Holly
Reference thread:
viewtopic.php?f=1&t=44892&p=465160#p465160
#504. "Ace of Bass"
Debuted: 8/2/13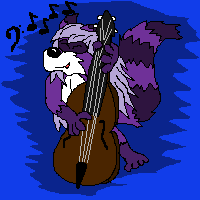 Uly reported that one of his friends, listed by the codename "bassplayingsugarplum" had received the call for WWTBAM. I couldn't resist that temptation to try a new character, so I drew a plum colored raccoon going to town on a big bass. Uly then put an avatar up of the real bassplayingsugarplum rocking the more common bass guitar (which I figured, but playing the big bass just seemed like a more fun idea to draw), but come to find out her real name is Jackie Fox. So not only is Sugarplum not playing the correct instrument, she isn't even the correct species! Oh well, it doesn't look like she cares...
Characters: Sugarplum
Reference thread:
viewtopic.php?f=1&t=44512&p=465409#p465409
#505. "Stinky Misspells Badly"
Debuted: 8/5/13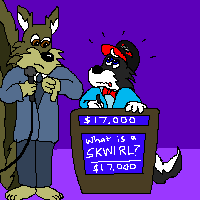 There was a lot of controversy over not only the ruling against a young contestant for misspelling his Final Jeopardy response in a Kids Tournament match, but the way Alex seemed to talk the kid down and rub it in. While it is debateable whether the show and its host were cruel to the kid, I couldn't help but lampoon it with my hard luck youngster Stinkerball once again getting the shaft by Winnie, now playing Alex Trebek. This avatar was accompanied by the question of whether a blatantly wrong but phonetically correct spelling would be accepted in Final Jeopardy (Stinky here spells squirrel as "SKWIRL"), and it's a question elwood reiterated later in the thread. Yet still not a single answer from our Jeopardy experts on how the show's judges would rule on such a case.
Characters: Stinkerball, Winnie
Reference thread:
viewtopic.php?f=1&t=44944&p=465509#p465509
#506. "Revenge of the Zuni Squirrel"
Debuted: 8/9/13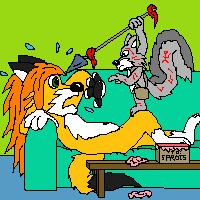 Ranked 13th in the 2013 ES Avatar Countdown
A RIP thread for actress Karen Black led to a few references to her bloody scene in a 1970's movie where she does battle with a haunted Zuni doll that is sent to her. Sprots claimed unfamiliarity with this movie, so I re-enacted the scene for her with tribal ES bearing down on her with his spear... perhaps in retaliation for all of those uncalled for "icks" and the refusal to return his affections.
Characters: ES, Sprots
Reference thread:
viewtopic.php?f=1&t=44971&p=465775#p465775
#507. "In Living Odor"
Debuted: 8/11/13
For my annual tribute avatar to Hooly for her birthday this year, I decided to play with Photoshop and create her skunk character entirely out of images I gathered from the internet. For all intents and purposes, the only thing I "drew" in this picture was the "H" on her medallion... making this the first ES avatar featuring no drawn artwork of mine. It looks creepy, yet cute at the same time. Sprots and Saucy actually gave me a good segway into introducing it, whereas I normally silently acknowledge the day.
Characters: Hooly
Reference thread:
viewtopic.php?f=1&t=44994&p=465861#p465861
#508. "Blurred Lines"
Debuted: 8/17/13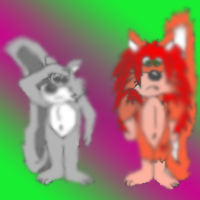 Fanny was oohing and aahing over her new iPad with retina display with resolution so sharp, it can probably make out both points on Buster's bifurcated weewee. I said that ES's artwork must look really awesome to her now, and drew of avatar of a peeved ES and MBRS that I took to Photoshop and blurred the heck out of. Who knows, maybe it still looked crystal clear on the new retina display...
Characters: ES, MBRS
Reference thread:
viewtopic.php?f=1&t=45028&p=466169#p466169
#509. "The Spunk and Spark Award"
Debuted: 8/19/13
More gushing from Fanny, this time, announcing her new great auntness and the fact that she'd now made it one year without smoking. This called for a special award presented by one of Fanny's favorite characters, Lil. Ever picking up on my fine detail (though occasionally hammering worms) Fanny even noticed that I accompanied her evening gown with dollar Hello Kitty Crocs from Mecca...
Characters: Fanny, Lil, Buster, Rainbow Donkey
Reference thread:
viewtopic.php?f=1&t=45038&p=466260#p466260
#510. "Hot Springs Santa"
Debuted: 8/20/13
Christmas came early to the world of ES, when a common climate fight between tmitsss and Bob Juch led to BJ claiming that one could swim at the North Pole. Well, I'm sure Santa has his own hot tub up there, so I had ES the studmuffin chillaxing with his reindeer gals MBRS and Sandy while worker bee Angel is furious that the boss is slacking. Will the presents get delivered to Colorado on time?
Characters: ES, MBRS, Angel, Sandy, Rainbow Donkey
Reference thread:
viewtopic.php?f=1&t=45039&p=466320#p466320
#511. "Wacky Cards"
Debuted: 8/22/13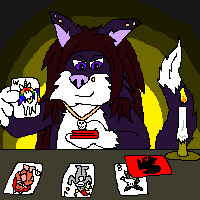 Ranked 3rd in the 2013 ES Avatar Countdown
After a five year absense, ladysoleil returned to the Bored to let everyone know that she not only passed the WWTBAM audition, but got a video interview. With new host Cedric looking to kick up the humor a notch, soleil mentioned that she played all of her "wacky cards" during her audition. Happy to see her return, and wanting to give the goth kitty character from her portrait a much needed modernization and makeover (changing her fur and hair color from black/black to dark purple/dark maroon), I came up with this image of the mysterious Soleil dealing out her wacky cards of ES characters. To show how long she'd been away, soleil didn't even have any idea why Bob Juch replied to my introduction post for this avatar with "Found it!"
Characters: ES, MBRS, Buster, Rainbow Donkey, Lady Soleil
Reference thread:
viewtopic.php?f=1&t=45043&p=466471#p466471
#512. "We Got To Move These Refrigerators"
Debuted: 8/25/13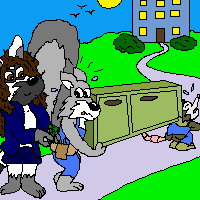 As only ghost can, she related her story of how to make the delivery of a new icebox difficult. When complaining that she heard the deliverymen for Home Depot might not deliver past the second floor to her third floor apartment, she mentioned that she would "waive (sic) money at them". This conjured up the image for this avatar of her bestest buddy ES and his poor flunky Buster hauling ghost's fridge to her faraway kitchen, tempted by the bucks ghost is slipping into ES's toolbelt. When Sprots told me this avatar reminded her of the video for "Money For Nothing", I had to make a reference to that song be the title.
Characters: ES, Buster, ghost
Reference thread:
viewtopic.php?f=1&t=45122&p=466653#p466653
#513. "Found Itt!"
Debuted: 8/29/13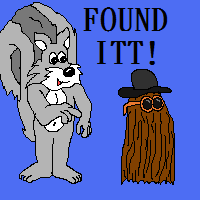 Uly went through a Bored renaissance when his friend Jackie Fox made it on WWTBAM, and was alternating between a number of different avatars of her. On one totally pointless change, I changed mine for no reason as well, other than to say "Found Itt", with ES pointing at the Addams Family's Cousin Itt.
Characters: ES
Reference thread:
viewtopic.php?f=1&t=45154&p=466854#p466854
#514. "Rainbow Donkey Comes To Life"
Debuted: 8/31/13
Ranked 5th in the 2013 ES Avatar Countdown
One of my fellow bloggers who is a whiz at crochet made an amazing replica of my Rainbow Donkey character (Who is a bonafide star on my blog), and when she made
the official post debuting the pattern
, I made sure to link to it on the Bored along with this squishably adorable avatar I made of Erin holding a Rainbow Donkey stuffed animal, as she has done several times in my blog's comic strip.
Characters: Erin, Rainbow Donkey
Reference thread:
viewtopic.php?f=1&t=45173
#515. "Eat More Skwirl"
Debuted: 9/4/13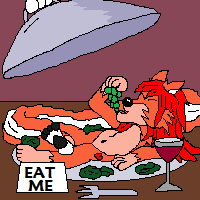 Uly mentioned that the name of his trivia team he played on with the now Bored famous Jackie Fox was "Eat Me, I'm A Danish". So for whatever reason, I was inspired to draw the sultry MBRS being served on a silver platter, munching on the finer things in life while tempting whoever happens by to.... well, you can read what the sign says yourself.
Characters: MBRS
Reference thread:
viewtopic.php?f=1&t=45226&p=467173#p467173
#516. "Kiss The Contestant"
Debuted: 9/6/13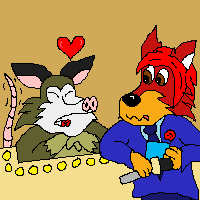 Marley, ever on the lookout for articles about WWTBAM, found one where new host Cedric the Entertainer talks about how he plans to pattern his hosting style after former Family Feud host Richard Dawson and kiss the lovely ladies on the show. While this didn't thrill Marley, it did tickle my muse to have the ES universe's favorite host Uly faced with the horrifying prospect of having to kiss a puckering possum. Better get the Chapstick with bleach...
Characters: Buster, Uly
Reference thread:
viewtopic.php?f=1&t=45251&p=467294#p467294
#517. "Assume The Position"
Debuted: 9/9/13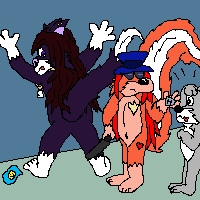 When Marley casually mentioned that contestants have to empty their pockets upon entering the studio, the recently called ladysoleil wondered what they'd think about her lucky guitar pick she carries around. This was naturally ripe for the humor of a frisking avatar, but it also struck home a bit since it was a guitar pick in a certain someone's old avatar that led to the charm her character I created wears around her neck.. and in this image, I had MBRS finding the magical "H" guitar pick upon soleil's person, giving poor ES a bit of a shudder...
Characters: ES, MBRS, ladysoleil
Reference thread:
viewtopic.php?f=1&t=45240&p=467414#p467414
#518. "Batter Up!"
Debuted: 9/19/13
Ranked 11th in the 2013 ES Avatar Countdown
Vandal showed off the announcement on PublishersMarketplace.com of the contract he signed with MB Publishing for his book he tentatively titled "Good Golly Miss Molly" about a girl who loves baseball and sees "shadow players" at the stadium of her favorite team. After 10 days of seeing Lady Soleil being uncomfortably frisked, I was anxious to leap on any inspiration I could find and honored "Molly" with my spunky Lil, who is looking perky as usual in the on deck circle.
Characters: Lil
Reference thread:
viewtopic.php?f=1&t=44918&p=468258#p468258
#519. "Security Guard Blues"
Debuted: 9/21/13
After a long time trying to find a new job after getting laid off, elwood finally found work as a night security guard for an office building. His post mentioned me, since I also work nights, and he said with his new uniform, he'd look just like his namesake Elwood Blues if he had a hat and sunglasses. As a tribute to elwood's new job, I drew this avatar, his first appearance in one of my official avatars after numerous appearances in drawings I did for LSWE games. Elwood is on patrol checking for riffraff in the alley, and found Buster digging through the office trash.
Characters: Buster, elwood
Reference thread:
viewtopic.php?f=1&t=45419&p=468361#p468361
#520. "Adopt A Critter Day"
Debuted: 9/25/13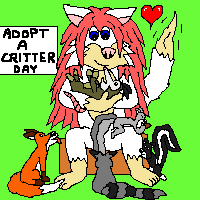 After the untimely passing of Misty, Saucy was making the rounds to adopt some new kitties. A pair she had been scouting would up getting claimed before she could do so... so Saucy said she was going back to the shelter "to... meet some other possible new friends." I took that as a species neutral statement, and rendered this avatar of Saucy being surrounded by all kinds of lovable, cute wildlife critters... namely, a squirrel, a skunk, a possum, a fox, and a raccoon. While she loved the avatar, Saucy ended up adopting two different cats anyway...
Characters: Saucy with ES and Buster in feral form
Reference thread:
viewtopic.php?f=1&t=45456&p=468586#p468586
#521. "Angel Is A Centerfold"
Debuted: 9/27/13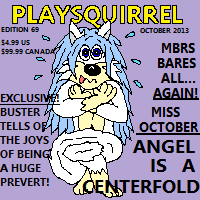 Vandal's occasional "What Are You Reading?" thread always has to be answered by me in some smartass way since I never read anything. This time around, I made an avatar of sweet, innocent Angel posing on the cover of Playsquirrel Magazine. While I'm sure she looks nice in it, I do only subscribe to Playsquirrel for the articles..
Characters: Angel
Reference thread:
viewtopic.php?f=1&t=45469&p=468646#p468646
#522. "Off The Air"
Debuted: 10/1/13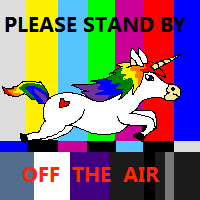 With the government shutting down on this day due to a budget impasse, I did the same thing I did in April 2011 at the possibility of government furloughs and drug out Rainbow Donkey for my avatar. RD makes a great test pattern, and this avatar was inspired by
this picture
I drew for my blog back in August. With the government shut down, I decided to shut down the avatar factory as well. OK, not really, but I have a go-to now should a squirrel boycott be needed this baseball postseason.
Characters: Rainbow Donkey
Reference thread:
viewtopic.php?f=1&t=45489&p=468794#p468794
#523. "Rodents in 3-D"
Debuted: 10/4/13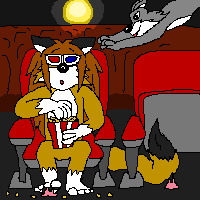 The much hyped movie "Gravity" came out today, and bazodee asked if this movie was worth losing his "3-D viginity to. I thought it would be nice to drawn an avatar of Sprots with colored glasses on, completely lost in the movie being shown, and getting dive-bombed by her favorite mangy rodent, no doubt looking even better in 3-D. Careful of all that gum on the floor, Sprotsie Baby...
Characters: ES, Sprots
Reference thread:
viewtopic.php?f=1&t=45535&p=469088#p469088
#524. "Ensign Buster Reporting For Duty"
Debuted: 10/8/13
Uly's friend BassPlayingSugarPlum delurked and posted some analysis she did on the "randomization" of the questions on WWTBAM. She added an avatar of a nerdy looking fox at a laptop, and uly said the fox should have a Star Trek uniform instead. That led me to draw this avatar of BPSP's character I had previously drawn (only changing her from a raccoon and a fox now that I knew her last name) in Spock's uniform, watching poor little red-shirted ensign Buster about to get flattened by an anvil. Buster played the red shirt due to the many deaths and other misfortunes he seems to suffer in my blog comic.
Characters: Buster, Sugar Plum
Reference thread:
viewtopic.php?f=1&t=45569&p=469289#p469289
#525. "Diaper Dandy"
Debuted: 10/11/13
Jessie is not particularly a fan of her state's junior Senator Ted Cruz, nor of the tactics he used to force a budget stalemate that led to the government shutdown. She described many interesting visuals of him to me in chat, and I used them to make this avatar to put in the "Ted Cruz is Canadian" thread. Here we see Buster filibustering in his overloaded diaper, as his aide the Pigladillo sprays a little Glade to cover up the stink, and holds a White Castle Crave Case for future talking while eating. The other members of Congress behind him are not amused, and as always, it is 11:11.
Characters: Buster, Pigladillo
Reference thread:
viewtopic.php?f=1&t=45610&p=469563#p469563
Avatars 526-550 >>>
<<< Avatars 476-500