Answers/points:
Decades: PrimeTime
Season 1, Grand Finale Part 1
11/5/2018
1960s
First Name Basis
Supply the first name of these characters mostly known for their last names:
1. Ironside - Robert
2. McHale - Quinton
3. Sulu - Hikaru (this was not revealed during the run of the show so I'll give everyone credit)
4. Mr. French - Giles
1970s
Make Me Laugh
The 1970s had many comedians getting TV sitcoms. Name the funny person associated with each show. Two points each:
5. Mork & Mindy - Robin Williams
6. Chico and The Man - Freddie Prinze
7. Sanford & Son - Redd Foxx
8. Welcome Back, Kotter - Gape Kaplan
1970s
Afternoon Delight
9. In February 1972, a famous rock and roll couple took over hosting a popular talk show for a week. Part of this appearance was used for a wonderful scene in an Academy award-winning movie over twenty years later. Two points each.
Name the talk show. - Mike Douglas Show
Name the guests hosts. - John Lennon and Yoko Ono
Name the movie that "sampled" from this appearance. - Forrest Gump (I confused two daytime appearances, here. The clip was from The Dick Cavett Show, not Mike Douglas. I gave credit for both answers. Sorry about that.)
Bonus: Name the rock and roll legend who appeared with them on Day 3 - Chuck Berry
1980s
Family Affair
Below are the family names from four popular TV shows. Name the show associated with each family. The year of each show's debut and network are given in parentheses. Two points each.
10. Conner (1988, ABC) - Roseanne
11. Owens (1985, ABC) - Mr. Belvedere
12. Keaton (1982, NBC) - Family Ties
13. Frye (1986, NBC) - Amen
1990s
Athletes in "Action!"
Name the following athletes-turned-actors: (two points each)
14. An Olympic swimmer hosted Nickelodeon's Figure It Out from 1997 - 1999
Summer Sanders
15. Before striking it big with ER from 1994-99, this actor/prospect had an unsuccessful tryout with the Cincinnati Reds.
George Clooney
16. In a bit of typecasting, ABC created a series about a former heavyweight boxer turned guidance counselor in 1993.
George Foremen
17. Former NBA star (and world champ with the Lakers) appeared in 11 episodes of the HBO series Oz between 1997 and 2003.
Rick Fox
1990s, 2000s, 2010s
Time Slots
Name the series that occupied the following slots (three points each):
(All times ET)
18. Sunday, 9:00-10:00, 1999-2007 on HBO (crime drama) - The Sopranos
19. Thursday (mostly), 8-8:30, 1994-2004 on NBC (sitcom) - Friends
20. Sunday, 9:00-10:00, 2010-present on AMC (horror) - The Walking Dead
1970s
Special Guest Star Bonus:
21. In April 1978, a British rock star (complete with 70s rock star hair) portrayed the WW II-era character Peter Buckley in an episode of an NBC military series a few months before he would appear in one of the worst movies of all times. Two points each.
Name the rock star. - Peter Frampton
Name the TV show. - Black Sheep Squadron (Baa Baa Black Sheep is okay)
Name the bad movie he appeared in. - Sgt Pepper's Lonely Hearts Club Band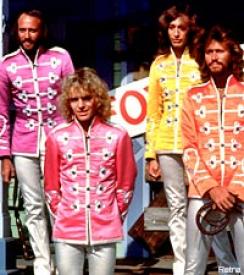 Points:
panic ~~ 53
melly ~~ 49
tbone ~~ 47
a non ~~ 47
mrkelley ~~ 41
tangredi ~~ 41
esto ~~ 41
krox ~~ 39
weasel ~~ 33
hotseat ~~ 27
Bob#s ~~ 26
lb ~~ 26
triviawayne ~~ 24
catfish ~~ 23
jarnon ~~ 22
BiT ~~ 21
beebs ~~ 19
sprots ~~ 19